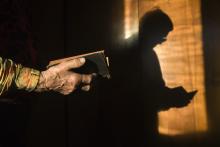 For me, the question of what to do with Yoder is not only an academic issue but a personal one. I was Yoder's graduate assistant — and would be his next-to-last — for two years. Academically, how I teach my "War and Peace in the Christian Tradition" course is indebted in great extent to what I learned from him. As evident in numerous footnotes, my scholarship and publications, including for Sojourners, over the last two decades on just war and just policing also owe a lot to both his research and his mentoring.
Nevertheless, after this semester, I am leaning towards Blanton's recommendation of setting Yoder's work aside, at least for the foreseeable future. I think it is now possible to rely on the work of others for persuasive defenses of nonviolence and for strong critiques of Niebuhrian realism. I struggled over whether to use one of his books or essays in my course this semester. I hesitated to say anything about Yoder's misconduct to my students. It took me a while before I did so.
What to do with Yoder? I'm not sure.