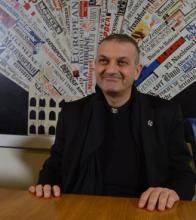 A Syrian priest held hostage for months by the ISIS terrorist group is certain his life was saved due to his interfaith work, despite being threatened with beheading by jihadists if he did not renounce Christianity.
The Rev. Jacques Mourad, a Syriac Catholic priest, was taken hostage in May from the Mar Moussa monastery, situated between the capital Damascus and the city of Homs. He and a volunteer from the monastery were forced into a car and driven for four days, during which time Mourad said he thought he would be killed.
"We could only perceive the sense of the desert. In that moment … I thought it was over," he told members of Rome's Foreign Press Association on Dec. 10, the first time he has spoken in detail about his odyssey since he escaped.