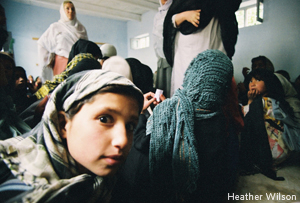 During interviews with more than a dozen Afghan women leaders, researchers, international aid workers and former Afghan government officials, we learned of persistent dangers and threats to the country's future.
Afghan women face continuing repression. They are witnessing the erosion of previous gains as Taliban control spreads in the countryside and reactionary warlord influence increases within the Kabul regime. The government's own security forces are often responsible for violations of women's rights. Check back in a few days for a more detailed account of what we learned.
The withdrawal of foreign forces will produce an economic crisis for the government of Afghanistan, which remains almost completely dependent financially on the U.S. and other foreign governments, especially to pay for its huge 300,000-person security forces. I wrote about this funding failure in an earlier post.
A new security agreement between Kabul and Washington is likely to call for the continued presence of U.S. military forces in the country beyond the 2014 transition deadline. This is seen as necessary to provide security for Kabul, but it could also have the effect of prolonging the insurgency and impeding prospects for reconciliation.
It was clear from what we heard that maintaining security requires more than deploying a large number of troops.