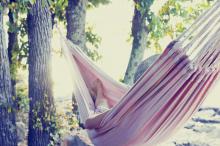 Jesus was clear.
You cannot serve both God and money.
Throughout my 20s, this was not a problem I thought I struggled with.
First of all, I didn't perceive myself as having all that much money. So, how could I be serving it? (I deal with the inaccuracy of how I perceive of my own wealth here.)
Second, money was never a part of my thought process when choosing my career. If money wasn't the motivator for choosing my job, how could I be in danger of "serving two masters?"
It's been said that one of the greatest tricks devil ever played was convincing most of the world he doesn't exist. His greatest encore might be wrapping up vice in the midst of a big ball of virtue and letting the whole thing rot from the inside out.
I might not struggle with being a slave to money in the sense that I obsess about how much I make. But, in looking back over the past 10 years of my life, I've found myself serving the master of mammon precisely in the ways that I DIDN'T think about money.