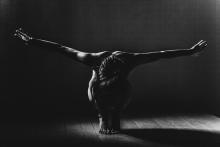 I lust. The words almost seem like they could be a tagline for a new Apple product — an appropriate image perhaps for a generation that is glued to our smart phones. Or perhaps the words are better suited in a kind of Descartes revolution for the 21st century, "I lust, therefore I am." In either scenario, the words are an accurate reflection of the inescapable truth that lust is consuming all of our lives.
In the church, the word lust has strong sexual connotations. It is a word we are ashamed of and work hard to ignore. When we do talk about lust, it is mostly in the context of uncomfortable sermons or youth group sessions about dressing modestly, not looking at porn, and not gazing at one another with desire. We also often think of lust as a sin that plagues only men — particularly young men with "raging hormones" and that it is something they need to "break free" from.
Essentially the message has become, "If you do lust, don't; if you don't lust, good." But such assumptions do not accurately represent the complex and diverse ways that lust manifests itself in our lives. That being said, I sometimes think that if the seven deadly sins included a clause for a sin that was more deadly, feared, and misunderstood than all of the rest, this would be it.