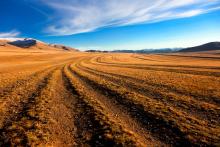 Last fall, in the middle of my first attempt at the academic job market, I got invited to a wedding in far west Texas. By "far west Texas" I mean Marathon, in the part of the state known as Big Bend, about a seven-hour drive from my house. It's a beautiful drive, moving from the Hill Country of central Texas into grasslands that, somewhere between Sonora and Ozona, give way into the desert that leads up into the low mountains of Big Bend. Or at least I find the drive beautiful — another wedding guest complained at the rehearsal dinner that there was nothing to look at on the drive.
I had some time to go for a run on Saturday morning, so I laced up my shoes and headed down Avenue D, across 1st street and a pair of train tracks. A quarter-mile later (no suburbs or outskirts in Marathon), I was in the desert.
Joan Didion says we're "well advised to keep on nodding terms with the people we used to be" because "otherwise they turn up unannounced and surprise us, come hammering on the mind's door at 4 a.m. of a bad night and demand to know who deserted them, who betrayed them, who is going to make amends."
Well, 17-year-old me isn't as mad as Didion's younger self sounds, but he was out there in the desert nonetheless, asking, "Why haven't you been back here?"