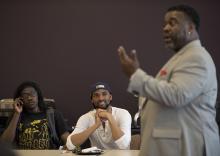 Is gay marriage a civil right like black equality? Or is it a sin African-Americans should condemn?
That's the question at the heart of The New Black, a documentary by filmmaker Yoruba Richen that examines African-American attitudes toward LGBT people leading up to Maryland's public referendum on gay marriage in 2012.
The film is now enjoying a new life as part of an initiative to get students at historically black colleges and universities to talk about a longtime taboo in the African-American community — sexual identity and the church.