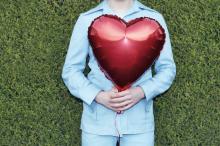 As I began reflecting on my past sexual interactions with men, I tried to bring God into the conversation for the first time.
It was easier to punish myself with guilt, follow youth group-style sexual boundaries or just say, "forget it" and do whatever I desired. I was reluctant to process my sexuality. Not only would it be a lot of work and uncover a lot of past hurt, but what if it unraveled foundational faith and lifestyle beliefs?
Up until six months ago, I had never questioned my decision to not have sex until I was married. I just did what I thought I was supposed to.
Once I began to reflect on it, though, I realized I was angry that God was asking me to wait. Or maybe it was OK to have sex, and God hadn't told me sooner! I envisioned what would happen if I didn't wait.