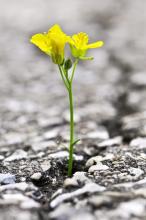 We have a group at our church that does a weekly sandwich ministry together. Though we already had a group that makes sandwiches each week for a local shelter, another team realized some folks don't go to shelters, and that they might be missing out on a real opportunity to connect with different folks in our community if they didn't go out to where the people are.
So now, every week, they walk the streets of downtown Portland and hand out upwards of 100 sandwiches. As they've met folks who live outside, they've identified other needs some have, such as socks, new underwear, rain gear, flashlights, and batteries. Each week, they come back with a list of needs, and each week our congregation helps fill those needs.
To me, this kind of ministry is exemplary of what missional church is about. We don't simply wait behind the walls for people to come ask for something; we go out, meet people face-to-face and get to know them. Yes, we offer them a meal, but we also share stories, learn a bit of their history, and they come to know that there actually are flesh-and-blood people behind all those steeples and stone facades.