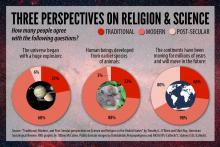 Meet the "Post-Seculars" — the one in five Americans who no one seems to have noticed before in endless rounds of debates pitting science vs. religion.
They're more strongly religious than most "Traditionals" (43 percent of Americans) and more scientifically knowledgeable than "Moderns" (36 percent) who stand on science alone, according to two sociologists' findings in a new study.
"We were surprised to find this pretty big group (21 percent) who are pretty knowledgeable and appreciative about science and technology but who are also very religious and who reject certain scientific theories," said Timothy O'Brien, co-author of the research study, released Jan. 29 in the American Sociological Review.
Put another way, there's a sizable chunk of Americans out there who are both religious and scientifically minded but who break with both packs when faith and science collide.