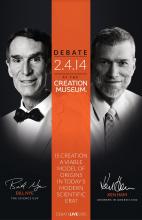 Whenever I hear about someone else making a case for Young Earth Creationism in the name of Christianity, I'm embarrassed, once again, to associate myself with them. And people wonder why many of us prefer to identify as "Jesus followers" or "Spiritual but not Religious" rather than be lumped in with the Ken Hams of the world.
Duh.
The thing is, a healthy number of us who consider ourselves to be Christian embrace science. We think critically. We accept the likelihood that much we think we understand about the world, the universe, and about our faith can (and should) change as we learn new things. We understand that faith is more about questions than answers, and that the prime mover in our faith practice is to be more like Jesus in our own daily walk, rather than focusing so much on making others more like us.
The desire of a vocal minority (yes, that's what I said, and I meant it) of Christians to cling to a notion that the entire universe is a few thousand years old, despite the clear physical evidence to the contrary, points less to a reasonable alternate view of the observable world. Rather, it points to a desperate attempt to maintain a dying voice in the cultural conversation.