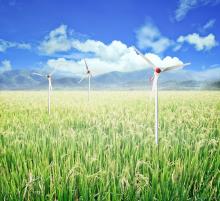 Pope Francis is a straight shooter who does not mince words: "If we destroy creation, creation will destroy us," the pontiff said last year. "Never forget this!"
The pope's warning and calls for action have galvanized many religious leaders from across Maryland to step up our efforts to protect God's creation from climate change disruptions. We understand that it is the poor and most vulnerable among us who are bearing the brunt of human-induced climate change. Unless we act now, the impacts of devastating super-storms, massive floods, droughts, and crop failures will only accelerate. Refusing to bury one's head in the sand and facing squarely the reality of climate change is a fundamental issue of justice and respect for life.
This is why I, a Franciscan friar priest, have joined more than 230 Maryland religious leaders, including Bishop Dennis Madden of the Catholic Archdiocese of Baltimore and six other leaders of Christian denominations across Maryland, in issuing an urgent, moral challenge. We are calling on Marylanders — including our elected officials — to take action on climate change by helping to shift our state's energy policy towards renewable, clean energy sources.