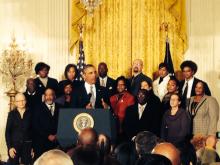 I stood in line and waited until they called my number.
"Neeeext," the woman behind the counter called!
The woman put out an energy that dared anyone to cross her, challenge her, even speak to her. She gave me a pile of papers to fill out "over there," she waved her hands dismissively in the general direction of all the other losers sitting in rows of old school desks — the kind where the chair and the desk are attached. They were all fully engrossed in one task: filling out their unemployment insurance applications. I joined them.
Of course we weren't losers, but it felt like we were. We were grown adults. We represented many races: white, black, Latino, and Asian. We represented a small fraction of the sea of people who were out of work at the height of the economic crisis. If you had come to us only weeks before we were school teachers and firemen, opera singers, Wall Street brokers, and justice advocates (like me). But now we were all numbers, experiencing the same humiliating moment together.
But, how much more humiliating it would have been to be thrown out of my apartment? How much more dehumanizing would it have been to become homeless or go without food?