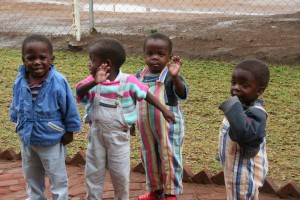 I love NPR.
A lot of people do.
But, I really hate their fundraising drives.
If the budget for public broadcasting takes another cut, there will likely be layoffs and then a lot more fundraising drives.
I'm not thrilled about it and I hope it doesn't happen, but life will go on.
However, not all budget cuts are created equal. Some cuts can mean the difference between life and death for some of the world's poorest people.
Less than one percent of the federal budget goes to foreign aid. Our spending on development and foreign assistance is not -- by any stretch of the facts or imagination -- our national debt.
Cutting foreign aid programs will do little to get us out of debt, but would be a devastating setback in the fight against global, extreme poverty.
There used to be a strong bi-partisan consensus that the United States had a moral imperative to help our global neighbors.
Earlier this week, Sojourners CEO Jim Wallis and Dr. Richard Land, president of the Southern Baptist Convention's Ethics & Religious Liberty Commission, appeared on MSNBC's "Morning Joe" to talk about what issues will -- or should -- be on the minds of religious voters in the 2012 election. They also spoke about their shared concern that the United States is failing to live up to its moral obligation, at home and abroad.
Next week, the Senate will vote on an important bill, one that determines the amount of U.S. aid allocated for foreign assistance -- specifically, poverty-related development aid.
Despite our economic recession and devastating famine in the Horn of Africa, the House of Representatives already has voted in favor of cutting programs that are crucial to the survival of many of the world's poorest people.
Each year, this U.S. foreign aid funds programs that:
Got something to say about what you're reading? We value your feedback!