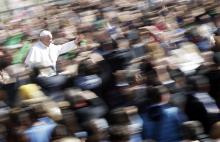 Pope Francis appears more popular than ever among American Catholics, and he hasn't even visited the U.S. yet, a trip that is planned for September and could well boost his visibility — and appeal — even further.
But will Francis find American Catholics filling the pews? Or just loving the pope from afar? That's one of the big — and so far unanswered — questions about his remarkable papacy.
Now, one researcher may have found some signs, albeit tentative, of an incipient "Francis effect."
Mark Gray of Georgetown University's Center for Applied Research in the Apostolate crunched the Catholic numbers from the 2014 General Social Survey, the go-to resource for sociologists. The GSS began in 1972 and is conducted every two years using face-to-face interviews with a national random sample of adults.
Gray noted that when asked to characterize the strength of their religious affiliation, 34 percent of Catholics said it was "strong," up from 27 percent in 2012, the year before Francis was elected.
That 7-point rise was a "significant bounce," Gray said.