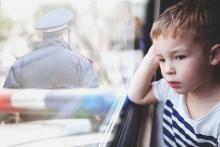 It's been said that our politics are often shaped by what we see out the window. 
Twenty years ago, if you would've asked me if I thought police treat people fairly regardless of race, I would have confidently said, "Yes" — just like 70 percent of white folks in the recent Pew survey. In fact, 30 years ago, if you would've asked me what I wanted to be when I grew up I'd have said "a policeman."
I grew up in a small town in Tennessee, which was still very segregated. Growing up, we knew the police officers by name. On more than one occasion, the police saved the day, and countless news stories celebrated the heroism and courage of police officers. 
My mom and I used to go on walks together in a park, and I always looked forward to bumping into the officer who patrolled the park. She was tough as nails but always greeted me with an enthusiastic smile and a big bear hug. At the age of ten, she appointed me a "Junior Officer," and she gave me a "real metal badge."  I felt like I was at the top of the world, and on my way to be officer of the year.
And then my window changed.