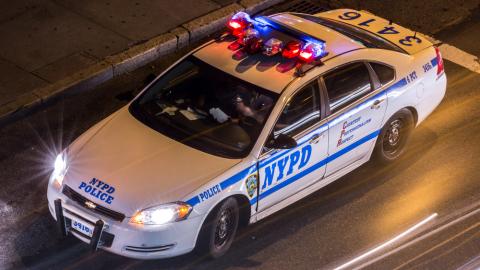 DOMINIC WAS 17 years old when the incident occurred. Dressed and ready to go to church, he walked out of his home in the Bronx just a few minutes ahead of his parents. All of a sudden, undercover police officers came out of nowhere, grabbed him, and threw him to the ground. As his parents came outside and discovered this scene, fear gripped them as they screamed to the officers, "What are you doing to my son?" "He fits the description. You stay out of this!" the officers replied. His mother pleaded, "Sir, he hasn't done anything. He has been with us the whole time."
While legal and political measures are being undertaken by opposing factions for and against the stop, question, and frisk practices of the New York Police Department, the debate rages. The fact remains, no matter what side you are on, considerable damage has already been done to a generation of African Americans and Latinos (particularly youth), not only in New York City but in other cities that have adopted this model of policing.
According to a recent analysis by the New York Civil Liberties Union, in 2012 "New Yorkers were stopped by the police 532,911 times. 473,644 were innocent (89 percent)." This means that out of more than half a million who were stopped, only 59,267 people were charged with any sort of illegal activity. In addition, 284,229 (55 percent) were African American and 165,140 were Latino (32 percent), most of them law-abiding citizens who were targeted, stopped, questioned, frisked, and found innocent. What is further troublesome is that not all actions conducted by officers were documented, so the actual number of those impacted negatively is even higher.
What are the consequences of this aggressive policing? First, it serves as a destructive force that provides the statutory impetus for police officers to harass innocent citizens. Second, it fosters hostile and adverse relations between police officers and the community. As a direct result, the atmosphere is charged with a reciprocal distrust, resentment, and even hatred, which manifests itself on a daily basis. A third consequence was articulated in Manhattan Federal District Court Judge Shira A. Scheindlin's ruling last August. According to The New York Times, she found that such tactics were clearly a violation of "the Fourth Amendment's prohibition against unreasonable search and seizure by stopping, and in some cases frisking, people who were not suspected of any crime, a practice that she also said intentionally discriminated against minorities."
A fourth consequence, and arguably the most damaging negative impact of this policy, is its interplay with the subculture of marijuana usage within the communities that are targeted. The Nation recently reported, "Since 1997, New York City alone has arrested and jailed more than 600,000 people for possessing marijuana; about 87 percent of the arrests are of blacks and Latinos." The article noted, "Whites and blacks use marijuana equally, but the police do not arrest them equally." It went on to say that 76 percent of those arrested and charged were young people in their teens and 20s. These statistics highlight the glaring racial disparities associated with arrests and imprisonment of marijuana users and elevates the connection between the stop, question, and frisk policy and the mass incarceration of African-American and Latino youths.
While there are some encouraging signs—for one, New York's new mayor has pledged to end stop, question, and frisk—the harassment on the streets continues. In early December, for instance, I was stopped by a police officer in Fort Lee, N.J., who said he was looking for a 5'10" Latino suspect—he said he stopped me because I "fit the description." (I'm actually a 6'4" African American.) When I convinced the assembled officers that I was a minister on the way to lunch with a colleague, they let me go. I later went to the police station and filed a complaint on what I perceived to be racial profiling.
Since I live and pastor in the midst of such aggressive behavior on the part of the police, it's not hard to understand why I feel called to cry out and work for justice. Will those who don't experience it as directly feel equally moved to join us?
Rev. Derrick Boykin is associate for African-American leadership outreach at Bread for the World and associate minister at Walker Memorial Baptist Church in the Bronx, N.Y.
Image: New York Police Department vehicle, stockelements / Shutterstock.com