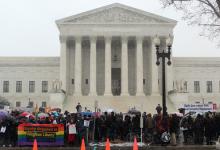 Sixteen months after ruling narrowly that companies with religious objections cannot be forced to pay for employees' contraceptives, the court faces a chorus of cries from religious charities, schools, and hospitals seeking to get out of the birth control business altogether.
The justices are scheduled to review several petitions Friday asking them to overturn federal appeals court decisions that would force the non-profit groups to opt out of the "contraceptive mandate" included in the Affordable Care Act, rather than receiving the blanket exclusion granted churches and other solely religious institutions.
If they agree to hear one or more of the cases, it will mark the fourth time in five years that President Obama's prized health care law has come before the high court. And it will put the battle between religious freedom and reproductive rights front-and-center in next year's presidential race.