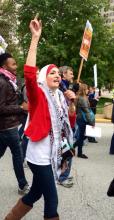 ISIS terrorist rampages, waves of anti-Muslim hate speech and fear-mongering Islamophobia are inspiring an outburst of online activism in the form of Twitter hashtags.
The question is: Does it work, especially over the long term?
An army of "clicktivists" — a mix of earnest advocates and pointed satirists — has entered the fray armed with 140-character positive, peaceful or humorous counter-messages.
Using names such as #TakeOnHate, #IStandUpBecause, and #NotInMyName, the pushback approach promotes the complexity, diversity and positive contributions of Islam and Muslims. Others, such as #MuslimApologies, offer sarcasm in service of the same message.
Yet the hashtags are often immediately co-opted by trolls spewing an opposite message. And some experts question whether clicktivist campaigns have lasting worth.
Linda Sarsour has no doubt they do. She's a Brooklyn-based Palestinian activist in the streets and on social media and a co-creator of #TakeOnHate. The hashtag is accompanied by a resource website, launched in March by the National Network for Arab American Communities.
"The insidious thing about anti-Arab hate speech is that it seems to be acceptable, where the 'N-word' or anti-Semitic remarks are not taken with the same degree of outrage," said Sarsour, who was chased down the street in September by a man who was later arrested for threatening to behead her.