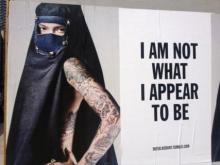 Islamophobic or empowering? Those are among the reactions to a new Diesel jeans ad featuring a heavily tattooed, topless white woman wearing a redesigned, denim burqa.
The slogan next to her: "I Am Not What I Appear To Be."
Racist and condescending are among the criticisms that have been leveled at the ad, created by Nicola Formichetti, former stylist to Lady Gaga, who made waves last month with her song "Burqa." But others, including a female Muslim marketing consultant who advised Diesel, said the idea was to make people question assumptions and stereotypes.