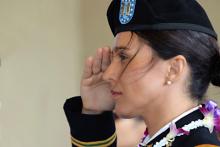 Three Buddhists, a Hindu, and a "none" will walk into the 113th Congress, and it's no joke. Rather, it's a series of "firsts" that reflect the growing religious diversity of the country.
When the new Congress is sworn in next January, Hawaii Democrat Tulsi Gabbard, an Iraq war veteran, will represent the state's 2nd Congressional District and will become the first Hindu in either chamber on Capitol Hill.
The 31-year-old Gabbard was born in American Samoa to a Catholic father and a Hindu mother, and moved to Hawaii as a child. She follows the Vaishnava branch of Hinduism, which venerates the deity Lord Vishnu and his primary incarnations.
Gabbard takes over the seat held by Rep. Mazie K. Hirono, who won a Senate race on Nov. 6 and will become the first Buddhist to sit in the upper chamber. There were already two other Buddhists in the House of Representatives, both of whom won re-election: Rep. Hank Johnson, a Georgia Democrat, and Rep. Colleen Hanabusa, a fellow Hawaii Democrat.