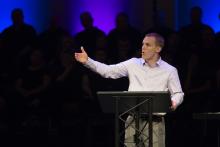 The Southern Baptist Convention will cut as many as 800 employees from its overseas missions agency to make up for significant shortfalls in revenue, officials announced Aug. 27.
The International Mission Board anticipates an annual budget shortfall of $21 million this year, following several consecutive years of shortfalls.
The developments are particularly painful for a denomination that was founded as a missionary-sending organization and that prides itself on making Christian converts across the globe.