Posts By This Author
Mission: Transformed
09-01-2012
The Street Psalms community pursues theology from below—and that changes everything about how "missionary" work is done.
ON A FLIGHT from New York City to Guatemala some years back, I met a woman from Oklahoma on her way to visit her soon-to-be internationally adopted daughter. "I just found them, the Guatemalan children, on the internet and thought they were so beautiful," she said. She beamed, her blue eyes, carefully painted lips, and cross earrings all sparkling.
Guatemala's landscape, where wistful clouds cruise above fertile fields and past rumbling volcanoes, reflects the volatility of the country's tragic history. That history includes a decades-long civil war, ending in 1996, in which more than 200,000 people were killed, mainly by U.S.-backed government forces. To visit the country is to experience not just that history, but also a culture that pioneered astronomy, devised an intricate written language, and erected engineering miracles. But, asked whether she intended to preserve her adoptive daughter's ties to her homeland, the woman I met on the plane said, "If she wants to see it, we'll bring her. But really, there's nothing there."
The attitude that "there's nothing there" is, all too frequently, the attitude of missionaries en route to Guatemala. But when Joel Van Dyke arrived in 2003 from Philadelphia, he suspected there was plenty there—there in the country's slums and in the cities' bursting garbage dumps, where thousands of people find sustenance every day. He set out to find what was there by learning to ask the right questions of gang members, slum dwellers, sex workers, and the local faith leaders who work with them. To do this, he told Sojourners, he had to adopt the attitude "let's go see what God is doing in the world and let that color and shape the theological discourse."
Goodness Revealed
01-01-2008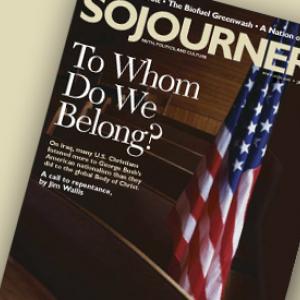 An interview with liberation theologian Jon Sobrino.