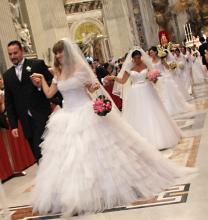 The wedding season is in full swing, and Pope Francis used the occasion on May 27 to warn couples not to marry too quickly, while also reaffirming the Vatican's opposition to gay nuptials.
Addressing crowds of followers at his weekly general audience in St. Peter's Square, the pontiff urged couples to take their engagement seriously.
"Betrothal is, in other words, the time in which two people are called to work on love, a shared and profound task," he said.