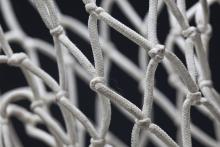 An early fellow Sojourner, Perk Perkins, reminded me this week that not long after we started Sojourners as a new Christian magazine for justice and peace, I came running into our little office one day and exclaimed, "Dean Smith is a Sojourners subscriber!" 
Here were young Christians in Washington, D.C., saying our faith called us to racial and economic justice, opposing the nuclear arms race, ending the death penalty, and supporting the equality of women. And the greatest college basketball coach in the country was reading Sojourners?! 
Dean Smith died on Saturday. He was 83 years old. 
Monday's front page New York Times story — not just in the Sports section — was titled, "A Giant of College Basketball And a Champion of Equality."  
ESPN and everybody else ran the numbers. But all the tributes and comments on the death of Dean Smith have quickly moved on from the numbers. Current UNC coach, Roy Williams, said his predecessor "was the greatest there ever was on the court but far, far better off the court with people." 
Player after player who were coached by Dean Smith, as famous as Michael Jordan to those who barely walked on to the team and hardly ever played, testified in the last few days to how much more than a coach he was to them — their "mentor," "teacher," "second father," "role model," life-long inspiration and guide.