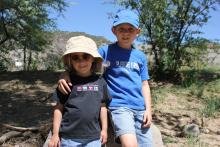 #5. Delivery complications: Amy was a real trooper when Mattias was born, but nothing about it was easy. Actually he and I had eerily similar experiences making our way into the world. We both were exactly the same length and weight, we both were faced the wrong way, and both of us were finally delivered by caesarian section, after putting our moms through hours of hardcore labor.
The story I've heard is that my delivery was a big part of why my folks decided not to have any more children. Before that, they planned on having more but it was too much to deal with. And let me tell you that I can sympathize. I was in the room both when Amy tried to deliver naturally, and when they cut her wide open and yanked the little peanut out. His face was blue from a lack of oxygen, and his umbilical cord wrapped twice around his neck. Though I've never experienced such awe and joy in my life, I also have no desire to relive that sort of terrifying vulnerability.
#4. Postpartum: We didn't recognize it as such for almost a year, but Amy suffered from pretty severe postpartum depression after Mattias was born. In a phrase, it sucked. I also happened to be running for local political office at the time, which added stress to the situation, but I didn't know what the hell was going on. It was our first time, after all, and no one really warned us about what to do if your wife has quasi-psychotic images of herself pushing your baby down the stairs. She was so worried she was going crazy that she didn't tell anyone for fear that they might take Mattias away from her. So instead, she tried to manage it, quite unsuccessfully, on her own for nearly 12 months.
The breaking point finally came one night when we were lying in bed and I laid it all out. I knew something was really wrong, but I had no idea what it was. I could feel her withdrawing farther away from me every day, and I felt like I couldn't do anything about it.