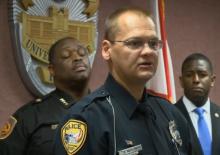 Early Thursday morning a gunman opened fire in a library at Florida State University, wounding three students before being fatally shot by police officers. Wielding a handgun, the shooter entered the library and forced hundreds of students studying for exams to flee or take cover behind bookshelves. NBC News reports:
FSU Police Department Chief David Perry said the library was "packed with students studying for final exams" and estimated that there were 300 to 400 people in the building. One group of students sought refuge behind rows of bookshelves. "Everyone started running to one side of the library, then to the back," one 20-year-old communications student who asked not to be identified told NBC News. "People were saying, 'Gun! There's a shooter! Go! Go! Go!'" She said her group hid among bookcases for what she said felt like 20 minutes. Once given the all-clear, the group was escorted to a campus building next door where they stayed until 4 a.m.
Although the identity of the shooter is unknown, police officers believe he was acting alone and that there is no further threat to students at FSU.