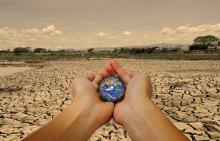 Last month, Rolling Stone magazine featured Bill McKibben's latest plea for climate sanity on its cover. And despite every pundit's whining proclamation that climate change is such a buzz-kill, Bill's article got forwarded, commented, tweeted, and otherwise pushed around the Internet more than anything else RS has put out lately.
So somebody out there is paying attention to climate change — even if the elites can't seem to grow a spine about it.
What I liked about Bill's article was that he lays out a clear, 3-pronged strategy for really doing something about climate change while there's still time.
If we do these three things, there's a possibility that we can reverse climate change, restore health to our skies, earth, and oceans, and move forward into a future where our grandkids can not just survive, but thrive.
Here's the plan.