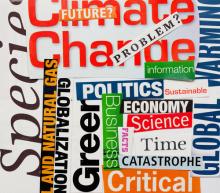 In my last column, "Three Numbers that Predict the Future of the Planet", I wrote about the state of the climate crisis and focused on three key data points that reveal a bleak, though not altogether hopeless, reality for us and for the rest of the planet.
As promised, this column is forward-looking and moves from describing the problem to prescribing the solution. To this end, I continue to draw heavily from the wisdom of Bill McKibben, Jim Ball, and other climate prophets who understand the times and are faithfully fighting to get us on the right track.
The way forward is not easy, but it will be good in the long run. Essentially, we need to set and enforce a limit on all remaining global warming pollution on the national and international scale, which will, we hope, keep warming to within 2oC. This will include some sort of pricing mechanism so that polluters have to take responsibility for paying for the costs of their own pollution. The problem is that we have not yet been able to muster the socio-political momentum necessary to reach these binding agreements. Turns out the polluters (largely the fossil fuel industry) don't want to have to clean up after themselves. They're also willing to fight with billions of dollars in campaign contributions and lobbying money to keep the status quo.