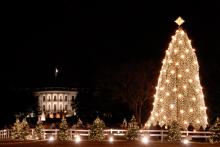 I sat behind a couple of folks on a plane to Seattle this morning who were discussing their distress about a so-called war on Christmas.
"Memorial Day is a holiday," said the man in a santa hat with disgust. "July 4th and Thanksgiving are holidays. Christmas is, well, Christmas!"
"Absolutely," nodded the woman next to him. "It's just more evidence of this war against Christmas."
On the way off the plane, a flight attendant made the grave mistake of wishing the man happy holidays. He stopped the line of outgoing traffic behind him (including me) to correct her. She demurred, looked toward her feet and smiled sheepishly.
We Christians have a long and storied history of playing the martyr, whether there's actually anyone persecuting us or not.