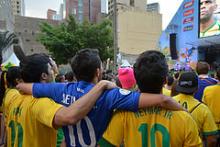 After the final whistle ended a hard-fought World Cup match, Brazilian star David Luiz consoled Colombian star James Rodriguez.
They exchanged jerseys to show their mutual respect, and Luiz held Rodriguez close as the losing player wept in frustration.
This poignant moment was much more inspiring than a string of fouls, some intentional, that sent Brazil's Neymar to the hospital and left players on both sides shouting in agony.
During play, soccer seems eerily like the world outside: opposing forces collide, do anything to gain advantage, bamboozle the game's referees, shout in mock pain and real pain, challenge joints and muscles beyond their capacity, give everything for their nation's cause — all while spectators whoop and holler in the safety of the stands.