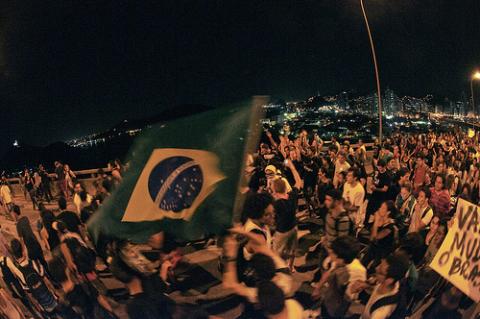 Brazil and the World Cup are in the news now, but not in the way that pleases the Brazilian government. Crowds are gathering in the streets around football (soccer) stadiums where Confederation Cup games are being played but not to buy tickets or get autographs of their sports idols. They are congregating to protest against the 2014 World Cup coming to Brazil. Brazilians protesting football? Upset about hosting the World Cup? Something has gone seriously wrong. This is like the French boycotting wine or Italians accusing pasta of undermining family values.
Even Americans, confused as we are about why the rest of world insists on calling soccer "football," know that the outcome of a football match can launch an entire nation into elation or despair. But no matter the sport, fans around the world follow the same emotional pattern: they are up when their team is up and down when they are down. World Cup championships played out on a global stage provide the winning nation with an outsized cathartic event for the pent up frustrations that accumulate with the stress and strains of daily life. And even without streets clogged with protestors, if you are a football fan living in one of Brazil's major cities, the typical daily grind is almost unbearable. Here's an account from an Al Jazeera reporter who lives in Brazil:
It is 8am and a bunch of people line up to get on a bus on Faria Lima Avenue in Sao Paulo. This may be their third transfer in the daily ordeal of travelling to work from the outskirts of Sao Paulo. When the bus slows down, people start to nudge right or left, hoping not to be left behind. Once they get on, it is so full that finding a little space to stand is only for the truly crafty.

After a one-hour journey through the infamous Sao Paulo traffic and pothole-ridden roads, crammed in with 100-plus people, it feels more like a ride on a rodeo horse than a means of transportation — all at a cost of 3.20 Brazilian Reals ($1.50) and your dignity.
National Pride Turns Sour
The current protests began when the government announced a 20 centavos (10 cents) increase in bus fare and, as reported on CNN.com, quickly expanded when the police responded violently to the initial demonstration. In the last few weeks, protestors in over 100 cities have been demanding action on a host of issues, including "corruption, poor public services, increasing inflation, lack of security and whether the money being spent on the World Cup might be better invested elsewhere." How much money are we talking about? More than $13 billion! Seriously? And there's not enough money to keep the bus fare where it is? Or better yet, to improve the urban transportation system?
It's no wonder that the rush of national pride that accompanied the awarding of the World Cup to Brazil in 2007 has turned sour. To complete the picture, you need to understand that while football fans are crammed 100 to a bus, wealthy Brazilians live a lavish lifestyle. The Al Jazeera reporter continues her account by contrasting life for the poor and the wealthy:
Many are not even lucky enough to have jobs that require this challenging commute. Some ride the bus to take their sick children to the public hospital. There they will wait for their turn, amidst hundreds of people, to meet a doctor who will probably tell them to have some tests and take a new appointment. The first available appointment is likely to be no sooner than three months.

This is the grim reality endured by most Brazilians. However, there are a lucky few who ride around the city in bullet-proof SUVs and schedule appointments with prestigious doctors who might charge up to $800 for a single visit. Those who ride busses [sic] to work do not live in gated communities with 24-hour security guards and close surveillance cameras — they also don't have a separate nanny to care for each child.
Asking the Deeper Question
The grind of daily life for the Brazilian football fan is pressing up against the realities of football itself. National football heroes like Pelé and Rolando are being criticized for making money off the World Cup while their fans are suffering. The government, so praised in 2007 for bringing the World Cup to Brazil, is now being vilified – for bringing the World Cup to Brazil. Let's be realistic: it's not as if football heroes haven't always made huge amounts of money or that football stadiums and the infrastructure to support the sport weren't always expensive undertakings. But something has shifted. Brazilians are beginning to question the price they are paying for their football catharses, emotional releases that don't solve any problems at all, but merely act like a numbing balm on the symptoms. Tired of grueling commutes, low-paying jobs or none at all, poverty and poor medical care, government corruption and waste, Brazilians are saying "no" to the balm and demanding a real cure to their problems.
The role football has played in Brazil is not unique. Sporting events of all kinds provide soothing balms in small communities and nations around the world, which is why governments at all levels support sports with tax subsidies and direct funding. Look, I don't mean to be a curmudgeon. Sports can serve a useful purpose – we all need to vent some frustration now and then. Cheering for a favorite team or yelling into a pillow can protect our family, friends, and co-workers from becoming innocent targets of our anger. But it's also true that when we grab for the quick fix that being a fan offers, we may be failing to ask deeper question: What underlying problems are we papering over with souvenir ticket stubs and fan posters? Brazilians are willing to sacrifice one of their deepest joys, their passion for football, to get answers and find solutions to national problems of poverty, inequality, and corruption. That makes them world champions in my book.
Suzanne Ross blogs at the Raven Foundation, where she uses mimetic theory to provide social commentary on religion, politics, and pop culture. Follow Suzanne on Twitter @SuzanneRossRF.
Image: Brazilian riots, photo by Francisco Neto / Flickr.com