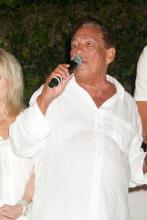 I almost felt sorry for Donald Sterling when I listened to the original recording of an alleged argument between him and his ex-girlfriend, V. Stiviano, released by TMZ Sports on Saturday. The argument centers around Stivianio's friendship with black and Hispanic people. The desperation in Sterling's alleged voice is palpable as he tries to scurry like a cockroach exposed by the light, but doesn't get away.
The day after TMZ released the recording, Deadspin released an extended version of the tiff with transcript included. In this recording, the cockroach is caught for examination under the proverbial glass. From the Deadspin report:
V: I don't understand. I don't see your views. I wasn't raised the way you were raised.

DS: Well then, if you don't feel—don't come to my games. Don't bring black people, and don't come.

V: Do you know that you have a whole team that's black, that plays for you?

DS: You just, do I know? I support them and give them food, and clothes, and cars, and houses. Who gives it to them? Does someone else give it to them?...
Sterling does not "support them." He pays them for work. He does not "give them food." He gives them a wage for employment. He does not give his players "clothes, and cars, and houses." The Clippers Corporation signs a paycheck, made possible by advertising dollars and ticket sales attracted by the highly skilled labor of the mostly black and brown Clippers players themselves.