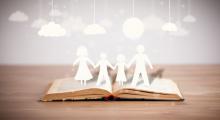 It has been a tough go for the church in the United States over the past couple months. The name calling, division, and posturing reached a deafening volume last week in the wake of the World Vision controversy around employing those in gay marriage.
Noise.
Massive amounts of energy poured into proving our "rightness" and your "wrongness."
Relationships severed. Most without ever having created the space to share a meal and simply listen to one another.
Social media. Interviews. Articles. Press releases.
Noise.
There have been so many chiming in on this thing that I saw no need to jump in and, well, to be honest, I've just been sad. Sad at the failed state of discourse within the church. Sad at the demonization. Sad that hungry kids across the world were losing their access to basic needs to live as a result of our inability to live, love and lead … together.