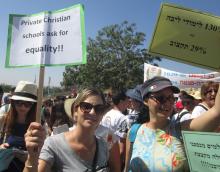 Israel's 47 Christian schools are entering the second week of an open-ended strike to protest ongoing cuts in government allocations, which they attribute to government discrimination against minority religious groups.
The schools, 40 of them Catholic, teach 33,000 Christian and Muslim Arab students in central and northern Israel.
Officials from various Christian denominations called the strike on Aug. 31, after nearly two years of negotiations with the Ministry of Education failed to convince the government to reinstate the funding it has withdrawn from the country's semi-private schools during the past six years.