Phyllis Zagano is a Catholic scholar and lecturer on contemporary spirituality and women's issues in the church. She currently holds a research appointment at Hofstra University in New York. Among her recent books are Mysticism and the Spiritual Quest andSacred Silence.
Posts By This Author
End of an Inquisition?
02-04-2015
The Vatican wraps up its three-year investigation of U.S. nuns. What's next for women in the church?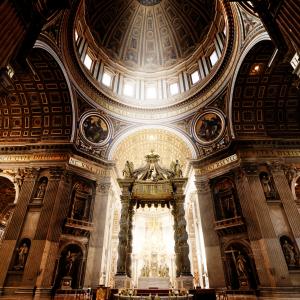 THE VATICAN REPORT on the three-year investigation of U.S. Catholic sisters landed softly in the national media in December, as major stories combined with Christmas to fill the news cycle. Good timing, if the intent was to bury it. But the story isn't over.
Some years ago, two Vatican offices, under the leadership of Pope Francis' predecessor, Pope Benedict XVI, launched separate investigations of U.S. women religious, first of the individual orders and later of their leaders' membership organization.
Why? The general consensus seems to be that high-ranking conservative U.S. bishops were angry at sisters who had generally served as obedient poorly paid minions to do their bidding, but who now were infected with a certain "feminist" outlook on life.
A September 2008 conference on religious life, held at Massachusetts' Stonehill College, gathered conservative voices critical of how U.S. sisters had "modernized" following the Second Vatican Council. Within a few months, a Vatican office (the "Congregation for Institutes of Consecrated Life and Societies of Apostolic Life") announced it would survey every group of "active" (vs. contemplative) U.S. Catholic sisters.