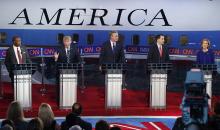 Oct. 28 is the third debate for the Republicans, and since their last stage appearance, several have been ringing the religious liberty bell from one primary state to the next.
CNBC, which is hosting this debate, says the focus will be on economic issues when the mikes turn on at Coors Events Center at the University of Colorado in Boulder.
But that doesn't mean God talk will be muted. Didn't Pope Francis just sweep through, telling U.S. leaders about the moral dimensions of public policy?