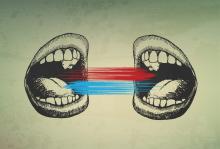 Why, exactly, does it matter if President Barack Obama gave a lackluster performance in the recent presidential debate?
These quadrennial campaign sideshows have nothing to do with one's capability, preparation, aptitude or suitability for the presidency.
Why does Gov. Mitt Romney's spirited performance matter? What does a "victory" by one candidate mean, other than momentary bragging rights?
Surely we know that these debates are about as meaningful as an Oscar winner's thank-you speech. What we want from a president is a steady hand in dealing with a wicked and wayward world, a collaborative spirit in bringing a broad reach to government, and a magnanimous spirit in consoling war widows, helping victims of disaster, protecting the weak from the relentless predations of the strong, and trying to preserve an "American Dream" to which all, not just a few, are invited. We want signs of character, not a telegenic mien.
Presidential debates are like first visits to possible in-laws. You hope not to belch at supper — and then you return to the world where you are actually exploring marriage and building a life.