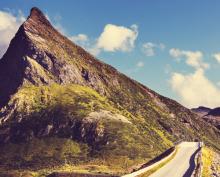 St. Bonaventure (d. 1274) once said, "Whoever is not enlightened by the splendor of created things is blind; whoever is not aroused by the sound of their voice is deaf; whoever does not praise God for all these creatures is mute; whoever after so much evidence does not recognize the Maker of all things, is an idiot."[1]
If Bonaventure was right, then we're all idiots.
The first time I travelled to Rome was an experience second to none. Never, in my young travels, had I ventured to a place so layered with history and significance around every corner that one literally couldn't escape it. Even the Roman suburbs were historical. We were amped to see it all. Our approach was simple: we would incrementally make our way through the city over the course of 10 days with a plan that would make any explorer proud.
The sheer magnitude of historical and ecclesiastical sites to be seen in the city was overwhelming at best. Then it happened. I had a unique moment near the end of the trip. We'd been walking nonstop through museums, ruins, churches; we'd even heard the pope preach a sermon, when I started to lose my attention. Many travelers or art buffs will resonate with this — there came a point during our endless walk through Rome where I had seen so much beauty and splendor and history that I just started taking it all for granted. The last two days consisted of me walking around blindly and numbly, room-to-room, ruin-to-ruin, as though what I stood before was of little or no value.
I called it "beauty exhaustion."