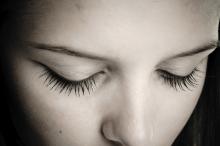 This morning I prayed naked. This exercise is part of a 50 Day Challenge I am doing.  Some friends of mine created 50 Suggestions to Embrace Healthy Sexuality and one of them is strip off one's clothes and prostrate oneself. For me it looked more like huddling under my covers to stay warm (my bedroom is in a basement and my sensitive body doesn't much care for its constant 65 degrees).
As I sat there praying, naturally I thought about my body. At first I began to consider all of its shapes and sizes—the feel of my skin and hair and curves underneath my palms. I thought about its beauty and how uniquely it was created. There are few other things that have skin similar to us humans. And we each have our own and only attributes: fingerprints that will never have a match; the unique combination of height, hair color, facial composition, and idiosyncrasies.
I am the only me. You are the only you. Ever. Period.