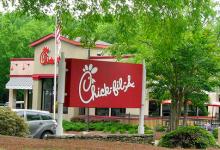 So, I kicked the hornets' nest with my recent piece in The Atlantic, "In Defense of Eating at Chick-fil-A." The comments were brutal, with most excoriating the chicken chain and rejecting my argument that boycotts such as this are a waste of time. I've received many emails about this, and a few issues have been raised that need addressing. 
First, is the matter of Chick-fil-A's funding. Critics claim that they have donated millions of dollars to "hate groups." A report by Equality Matters serves as the basis, but a deeper look at the actual numbers tells a different story.
Yes, Chick-fil-A donated money to "pro-family" groups, but most of them — with the exception, perhaps, of the Family Research Council, which received a paltry $1,000 from the fast-food company in the year cited — don't deserve the derisive title.
Included in the list are organizations such as Fellowship of Christian Athletes. If you know anything about FCA, you'll agree that labeling them "anti-gay" is flat out dishonest. Regardless of your stance on gay marriage, I encourage you to investigate EM's report and do your homework on what the groups on this list actually stand for and work toward. You be the judge. 
Underlying the question of funding is a fundamental distinction that too few Americans fail to recognize. Our society must begin to recognize that being "anti-gay marriage" is not the same as being "anti-gay." Chick-fil-A's top executives and perhaps the corporation as a whole might be classified under the first label but not the second.