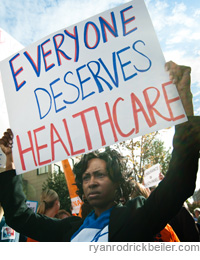 Yesterday, the Senate passed a jobs bill by a 70-28 vote, showing that even in today's polarized political climate, bipartisan solutions to the major problems facing the country are still possible.
Today, President Obama hosts a summit on health-care reform with the bipartisan Congressional leadership. Can we hope for the same result? The indications are, probably not. While there are real ideological and policy differences, the bottom line, as some commentators have noted, is that the president and Democrats want a bill to pass, and Republicans don't.
In the Senate bill that is the basis of the president's proposal, Democrats have made major concessions. Any semblance of a public option has disappeared, and extended coverage is through private insurance companies. Rather than offering universal coverage, the bill would extend health insurance to 31 million more people; however, 15 million would still not be covered, including undocumented immigrants. Even so, Republican senators maintained their stone wall of opposition, with none voting for the bill.
Democrats could make further compromises -- reform of the malpractice system, for example -- that go against their special interests. But without a guarantee that this would result in Republican votes, there is no incentive to do so. With the mid-term elections approaching, the political reality is that not passing any health-care bill benefits Republicans.
It's simply the latest example of our badly broken political system. What will win the next election is more important than what policy changes will benefit the country and most Americans.
As the health-care debate enters this final state, Sojourners and I joined with 25 other religious leaders and 57 national organizations in signing a letter delivered to the president and Congress, and an ad in several newspapers read widely on Capitol Hill. In the open letter, we said:
We write to you at this critical juncture to urge you to complete the task at hand on behalf of the millions who are left out and left behind in our current health-care system