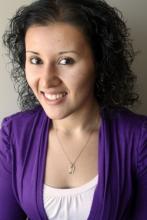 Introduction from Lisa Sharon Harper: Every once in a great while you meet someone who carries in their very body the scars of injustice that we talk about so much at Sojourners. These scars leave permanent reminders of the profound need for every follower of Jesus to follow him in word and deed. It is my great pleasure to introduce you to my friend and colleague, Ivone Guillen. As Sojourners' Immigration Campaigns and Communications Associate, Ivone has worked tirelessly for the passage of just immigration reform for two years. As a formerly undocumented immigrant, she bears the scars of our unjust immigration system and has experienced the healing that came from changes in immigration policy last year. Please read Ivone's story. It reflects the stories of millions of people in church pews across the country; people made in the image of God, people waiting for that image to be fully recognized and set free inside our borders.
I remember clearly the day I heard the announcement on deferred action for childhood arrivals (DACA) as I felt an overwhelming surge of emotions in that one moment. A path to opportunity, however fragile and short-term, had finally been created for undocumented young people wanting to become full members of American society.
As I sat on the sofa on the morning of June 15 in front of the television and next to my computer, I felt anxious, excited, and dazed at the same time. There I was, listening to one of the biggest announcements ever made in my lifetime, and it directly impacted me. It was a surreal moment since I had been working with the advocacy community for almost two years and had seen difficult developments take place at the state level on the issue. Then and there, I felt that all of my work was paying off and that change could be achieved with enough persistence and pressure. It was a moment that most people wish to live and see, especially those who have worked in the movement for decades but seldom experience the ultimate triumphs of slow processes.