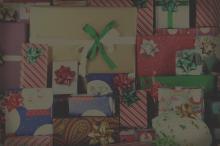 As in Biblical times, the Christmas season officially begins the day after Halloween, and that's when the holiday catalogs started showing up.
Gird your loins folks: the Season of Audi has arrived.
The deep introspection, the "Emmanuel, God with us" soul-searching can wait until January, when all the hubbub has passed and the bills start arriving.
We piled the catalogs up on the dining room buffet as a visual warning against the coming materialistic storm. A few caught my eye:
"Soft Surroundings: My time. My place. My self. Winter collection. Clothing, home, beauty." My, oh my, it really IS all about me. For the narcissist in all of us…
"HearthSong: Toys You'll Feel Good About Giving. Over 100 New Toys… And Limitless Joy!" After 45 minutes of page-flipping, and several phone calls to their 1-800 line, it turns out that HearthSong does not sell Limitless Joy as a stand-alone product. It comes only with the purchase of a toy.