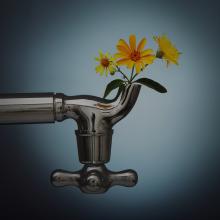 "The biggest open question in Paris may be how much aid goes to poor countries trying to leapfrog fossil fuels," Bill McKibben, Schumann Distinguished Scholar at Middlebury College and founder of 350.org, said.
"For reasons both moral and practical the number should be large — larger than it likely will be."
As we think about the future of our children and our grandchildren, we need to rethink our use of water: how we store it, how we carry it and how we drink it. Water is a human necessity. Our ignorance can lead to the irony of spoiling watersheds — by robbing them of potable water while introducing mountains of plastic waste, impervious to decays which produce useful soils, and diverting water from useful work.