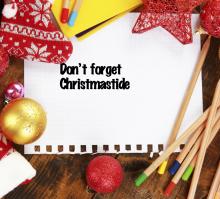 Now that Dec. 25 is over, the real war on Christmas can begin.
Because, you see, that other "War on Christmas" that begins in late November and ends on Dec. 25 is a manufactured war. That war is fabricated by a television network that, despite the Bible's repeated message at the birth of Christ to "not be afraid," wants Christians to live in fear of some secular agenda to destroy Christmas. After all, there's nothing like fear and a manufactured war to raise television ratings.
That's a manufactured war because, as Diana Butler Bass has brilliantly pointed out, the season from late November to Dec. 24 isn't Christmas. It's Advent. If anyone were waging a war on a Christian season during the early part of December, it wouldn't be on Christmas. It would be on Advent.
The real war on Christmas begins on Dec. 26, but no major television network will tell you about it. The real Christmas season, known as Christmastide, begins on the evening of Dec. 24 and lasts 12 days, ending on Jan. 5.