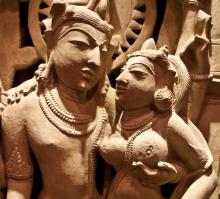 With their "True Love Waits" jewelry, conferences and T-shirts, Christians may be the face of the abstinence movement, but Muslims and Hindus are more likely to abstain from premarital sex.
That's the conclusion of a new study in the American Sociological Review, which also found that Muslims and Hindus -- at least in the developing world -- are more likely than Christians and Jews to refrain from extramarital sex.
"All major world religions discourage sex outside of marriage, but they are not all equally effective in shaping behavior," said Amy Adamczyk of the John Jay College of Criminal Justice, who co-authored the study with John Jay doctoral student Brittany E. Hayes.
Drawing on the Demographic and Health Surveys funded by the U.S. Agency for International Development, the study included data from 31 developing nations collected between 2000 and 2008. The authors focused on individuals' responses to questions on religious affiliation, marital status, and sexual behavior outside of marriage.
Adamczyk said the study evolved from another study she was doing that found countries with large Muslim populations have very low rates of HIV and AIDS. "I was trying to figure out why that would be," she said. One reason she considered was lower rates of sex outside of marriage.