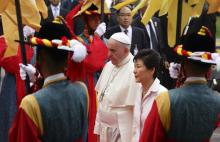 At Beijing's oldest Roman Catholic Church on Wednesday, Mary Zhang, 54, eagerly awaited the arrival of Pope Francis—at cruising altitude.
"I'm very excited. It's the first time the pope has flown over China," said Zhang, a regular worshipper at the Cathedral of the Immaculate Conception who volunteered to help clean the church.
"I really hope he can give a Mass in person in China one day. It's a sign of a better relationship between the Vatican and Beijing, as flying over China was not allowed before."
The pontiff, who landed in Seoul on Thursday for a five-day visit to South Korea, sent a telegram of greetings to Chinese President Xi Jinping as the papal plane flew over northeastern China, as Francis does with any country he flies over, in accordance with Vatican protocol.
The telegram, sent early Thursday, read, "Upon entering Chinese airspace, I extend best wishes to your excellency and your fellow citizens, and I invoke the divine blessings of peace and well-being upon the nation," The Associated Press reported.
Popes have globe-trotted for decades, but none has visited China, a communist nation that crushed religion during Chairman Mao Zedong's time. Today, China is more open but remains a "Country of Particular Concern," according to the U.S. State Department's latest International Religious Freedom Report, which last month described the continued harassment and detention of some Catholic clergy in China.