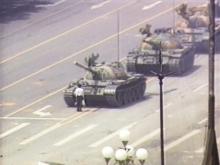 We're commemorating the 25th Anniversary of the massacre at Tiananmen Square this week. The question is whether anyone remembers. China's rulers have worked hard for the past 25 years to wipe this memory card clean.
It began when they wiped up the blood on Tiananmen Square, after turning their armed forces against their own people — students and supporters who were seeking more openness and reforms in their system. And this attack on memory has continued relentlessly, to this day. China's censors are so thorough that even the words "May the 35," as a veiled reference to those fateful events on June 3-4, 1989, are quickly removed from any appearance on social media.
China's rulers have good reason to repress these memories. While attention has been focused on what happened in Beijing's Tiananmen Square, few recognize that the demonstrations and movement for reform, initiated by students in Beijing who considered themselves patriots, spread around the country. Shen Tong, a 20-year old biology student in Beijing at the time and a leader who narrowly evaded police to leave the country after the crackdown, told NPR that eventually as many as 150 million people in cities throughout the country were on the streets.
Louisa Lim's aptly titled book, The People's Republic of Amnesia: Tiananmen Revisited, recounts not only the stories of those involved in the brutal crackdown at Tiananmen, but also documents the bloody suppression which took place at Chengdu. Recently, as NPR's Beijing correspondent, she took the famous picture from this time of "Tank Man" — a lone student standing in front of Chinese tanks — to contemporary university students in Beijing, asking if they could identify the iconic photo. Of 100 students, only 15 knew what it was, and they didn't wish to discuss it. Their names were withheld out of respect for their anxiety.