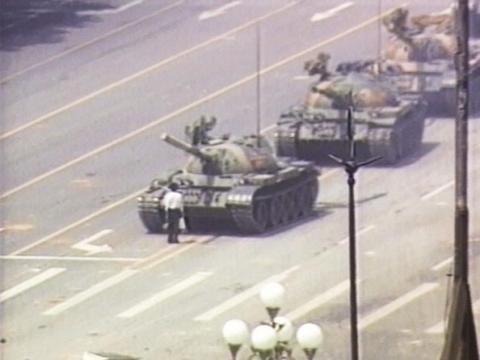 We're commemorating the 25th Anniversary of the massacre at Tiananmen Square this week. The question is whether anyone remembers. China's rulers have worked hard for the past 25 years to wipe this memory card clean.
It began when they wiped up the blood on Tiananmen Square, after turning their armed forces against their own people — students and supporters who were seeking more openness and reforms in their system. And this attack on memory has continued relentlessly, to this day. China's censors are so thorough that even the words "May the 35," as a veiled reference to those fateful events on June 3-4, 1989, are quickly removed from any appearance on social media.
China's rulers have good reason to repress these memories. While attention has been focused on what happened in Beijing's Tiananmen Square, few recognize that the demonstrations and movement for reform, initiated by students in Beijing who considered themselves patriots, spread around the country. Shen Tong, a 20-year old biology student in Beijing at the time and a leader who narrowly evaded police to leave the country after the crackdown, told NPR that eventually as many as 150 million people in cities throughout the country were on the streets.
Louisa Lim's aptly titled book, The People's Republic of Amnesia: Tiananmen Revisited, recounts not only the stories of those involved in the brutal crackdown at Tiananmen, but also documents the bloody suppression which took place at Chengdu. Recently, as NPR's Beijing correspondent, she took the famous picture from this time of "Tank Man" — a lone student standing in front of Chinese tanks — to contemporary university students in Beijing, asking if they could identify the iconic photo. Of 100 students, only 15 knew what it was, and they didn't wish to discuss it. Their names were withheld out of respect for their anxiety.
It's hard to know with any certainty how many were killed during those days. Estimates begin in the hundreds and go into the thousands. What's clear is that a popular movement for reform, even supported by some high-ranking members of the Communist Party, was crushed by those who clung to power, using bloody tactics which shocked not only the students, but many more throughout the country.
By these actions, the regime sent a clear signal that still communicates 25 years later: challenges to its power will not be tolerated. Instead of political liberalization, China's leaders have offered its citizens a pathway toward economic growth and material prosperity. They try to harness the political energy of its citizen around a resurgent nationalism. Anyone visiting China sees its astonishing economic progress. But all this comes with a political cost. U.S. teachers, for instance, who give a year or two to teach English as a second language in China are simply told to avoid discussing the "Three Ts" — Tibet, Taiwan, and Tiananmen.
At grassroots levels, however, unrest in China continues, though not like the movement leading to Tiananmen. But local people protest wanton pollution of their water or land, rampant political corruption, and flagrant abuses of power. These protests are a regular occurrence, and unnerve the regime. Its greatest fear is the lost of its legitimacy. So it constantly preaches the virtues of "social harmony," while supporting moves to firmly quell dissent. That's also why it works so hard to expunge the massacre at Tiananmen Square from the memory of its population. No other event so seriously undermines the regime's legitimacy.
The intriguing question is where the growing church in China will fit into this picture. It's estimated that on any given Sunday, more people attend congregations in China than in the United States. Both the "official" church in China, under the umbrella of the China Christian Council, and the "unofficial" or unregistered congregations throughout the country are rapidly growing. In part, it's due to the ideological vacuum in the country. Communism as a belief system is dead. The Communist Party clings to its power in order to control, and reap the benefits, of the society's materialistic growth.
For those who wonder whether reality is more than a salary, Christianity is an intriguing option. But when you listen to those in leadership from the "official church," they also stress the values of social harmony, echoing the government. The astounding, largely undocumented growth of the church in China is a contemporary gift of the Spirit. Yet, we must ask how it will develop its own prophetic witness, within its unique context, as part of its proclamation.
Christian faith knows that a sustainable, promising future cannot be built by denying that past, but rather by redeeming it. We remember spilt blood. The 25th Anniversary of blood spilt at Tiananmen Square and elsewhere should be the occasion for resurrecting memory as the best safeguard against repeating such a tragedy in the future.
Wes Granberg-Michaelson is the author of From Times Square to Timbuktu: The Post-Christian West Meets the Non-Western Church . For 17 years he served as General Secretary of the Reformed Church in America, and has long been active in ecumenical initiatives such as the Global Christian Forum and Christian Churches Together. He's been associated with the ministry of Sojourners for 40 years.
Image: BEIJING - JUNE 5, 1989: (JAPAN OUT) (VIDEO CAPTURE) A lone demonstrator stands down a column of tanks June 5, 1989 at the entrance to Tiananmen Square in Beijing. The incident took place on the morning after Chinese troops fired upon pro-democracy students who had been protesting in the square since April 15, 1989. (Photo by CNN via Getty Images)