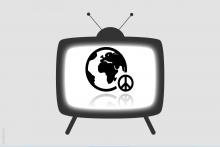 I didn't expect to get hit on during Super Bowl XLVIII.
I mean, I was expecting the usual stuff — the testosterone-fueled web hosting pitch, the adorable animals selling beer – but this was shameless. Someone really did their homework, because company after company turned up with things I like to hear: healthy families; cute biracial kids; a nation of immigrants; a thriving main street; victory for the marginalized; solving the world's most pressing social ills. Check, check-check.
Progressive values, you are currently the it-girl for advertisement pickup artists. Enjoy it?
I, for one, do not.
Don't get me wrong, commercials that celebrate our society as diverse and affirming are far more appealing than the advertising tropes we're used to. But they also veil or flat-out misrepresent the structures and practices of the companies telling them. Without a significant shift towards justice on the part of these companies themselves, their social good stories shouldn't charm us — they probably should leave us with a bad taste in our mouths.