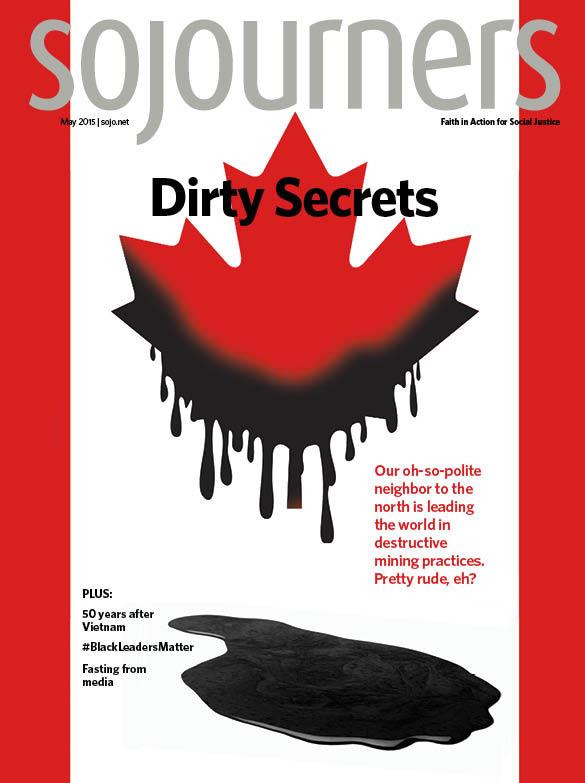 Magazine
Sojourners Magazine: May 2015
Subscribe to Sojourners for as little as $3.95!
OUR FRIENDLY NEIGHBOR to the north has a well-deserved reputation for civility and hospitality, not to mention great health care available to all. But a dirty secret has emerged: Some of the worst mining companies in the world are Canadian. In this issue of Sojourners, Canadian writer and Anglican priest Emilie Teresa Smith investigates the extensive harm Canadian mining firms have brought upon Indigenous people and the environment. If you thought the Keystone XL pipeline was the only blot on Canada's good character, its business model in exploiting mineral resources of developing countries is even worse.
While political partisanship in Wash-ington, D.C., has obstructed meaningful reform of our broken immigration system, churches on the border are having a direct impact on the people whose lives are on the line. David Cramer writes about Christian organizations in the Rio Grande Valley banding together to provide comfort, food, and shelter to undocumented families. Led by Catholic Charities in McAllen, Texas, the churches seek to serve, not to make a political statement, yet their compassion is attracting the attention of national media and changing the conversation from political to humanitarian.
As sexual assaults on college campuses continue to stir national conversations, Lyndsey Christoffersen directs our attention to another place where sexual assault too often goes unnoticed: our churches. Examining the ways "modesty talks" and Bible stories can seem to endorse victim-blaming behavior, she calls the church to speak candidly about sexual sin in scripture and in our communities.
Susan Windley-Daoust also has a word for the church: Though we love to be a "voice for the voiceless," a renewed theology of the body means stepping aside and allowing people who live with disabilities to speak for themselves.