STEVE KLAWONN, pastor of Prince of Peace Lutheran Church in Evansdale, Iowa, was near the end of a seven-year church redesign when he scoured the internet for new church furniture—with no promising leads.
"Needless to say, church furniture prices tend to be pretty high," he said.
In a climate where church attendance is declining and houses of worship are looking for creative ways to stay in operation, solid wood pulpits and lecterns are expensive investments. In nearby Humbolt, family-owned Gunder Church Furniture sells a winged pulpit for $1,546; a matching lectern goes for $1,078. Klawonn liked the idea of choosing an in-state manufacturer, but affordability was key.
Klawonn eventually landed on the website of another Iowa-based manufacturing facility that builds and refurbishes chancel furniture and pews—with prices 38 to 70 percent cheaper than the pulpits and lecterns sold at Gunder, prices more like those of used items found on eBay and Craigslist.
The warehouse Klawonn discovered—situated along the Mississippi River in Fort Madison—is not a normal for-profit American business. Rather, it is one of nine industrial sites owned by Iowa Prison Industries (IPI), a state-managed enterprise of Iowa's Department of Corrections.
In addition to church furniture, the IPI factory makes furniture for Iowa state offices and public universities. Every worker at the plant, from the furniture designers to builders and technicians, is an inmate—incarcerated by the state of Iowa and part of an inexpensive labor force used to help pay for the prisons they're held in.
Low, low prices
Iowa Prison Industries is hardly a secret among Iowa churches. St. Paul's United Methodist Church in Cedar Rapids allocated $4.3 million to renovate its historic building. "It was a lot of money," acknowledged Lois Mather, chair of the renovation committee and St. Paul's lay leader. But St. Paul's spent only one-tenth of 1 percent of its fund to refurbish its furniture—a chest, side chairs, a table with two pull-out leaves, a sofa, several floor chairs, and a library table—by contracting the restoration work to IPI. Mather noted how well IPI restored the original look of the pieces, and now says she is shocked whenever St. Paul's or any other church in Iowa buys furniture from anywhere else.
First Lutheran Church in Cedar Rapids is in talks with IPI about refurbishing its pews, as part of its own $4 million building project. Friendship Baptist Church once had office furniture manufactured by IPI. A handful of Iowa Catholic churches—St. Mary's in Storm Lake, St. Theresa's in Des Moines, St. John's in Norwalk—have contracted with Iowa Prison Industries in the past.
Every state has a prison industry (except Alaska, whose prison industry went bankrupt in 2010). Four states allow prison products and services to be sold only to state agencies—to prevent for-profit companies from gaining an unfair advantage by hiring low-wage prison labor and undercutting local businesses. Most states, 46 in all, sell their prison-manufactured products, such as furniture, clothing, and electronics, to nonprofits (including churches) as well as to state agencies. Iowa is the only state whose prisoners make pews and pulpits, specifically catering to churches. In fiscal year 2017, Iowa churches funneled as much as $245,000 to prison industries through the purchase of furniture and refurbishing services.
Churches are a faithful, if small, customer base for prison industries and create an often-overlooked mass incarceration revenue stream—from the offering plate to the prison industrial complex.
Follow the chain gang
Stanley Hart III, 52, made $1.24 an hour when he drafted blueprints for IPI. He designed furniture, some for churches, and was good at it. In a handwritten letter from prison, Hart responded to interview questions about his daily routine at Iowa Prison Industries. It consisted mainly, he wrote, of "bidding projects, reviewing project plans, and estimating materials."
When IPI upgraded operations at its plant in Anamosa, Iowa, Hart helped design the new shop buildings. (His résumé includes an MBA and a master's in theology from Shalom Bible College in West Des Moines.) In the process, Hart earned the trust of his superiors, including IPI director Dan Clark.
Hart's hourly wage placed him in the 54th percentile among incarcerated earners. The average wage among state-operated prison industries nationwide is 87 cents an hour—with starting wages around 30 cents an hour, before raises or bonuses. Earnings of more than $3 an hour are in the top 10 percent of incarcerated earners nationwide.
Low wages are at the root of the prison industrial complex, a phrase used to describe the overlapping economic interests of government and industry. Prison industries historically are rooted in the U.S. chattel slave system. The dismantling of that system after the Civil War left private industry without free labor. A system of "convict leasing" was introduced to keep manual labor cheap. Now it is used to keep profits high and taxes low. IPI says it was founded to "employ offenders to support the cost of running the prisons."
That cost is high and rising. U.S. state prisons, collectively, spend $50 billion per year to stay in operation. The United States makes up less than 5 percent of the world's population but holds nearly 25 percent of the prisoners in the world. Over the past few decades, the prison population in the U.S. has increased more than 400 percent, according to the Congressional Research Service.
Where does the money go?
There are two types of prison workers in Iowa: those who work in traditional ("state-managed") industries—including church furniture manufacturing—and those who are leased to private corporations ("private industry enterprises"). According to IPI director Clark and IPI annual reports, the wages of IPI's state-managed prison laborers are allocated to Iowa Prison Industries, the Iowa Department of Corrections, and the state general fund. In theory, a prisoner working in a prison-run industry in Iowa makes the state minimum wage of $7.25 an hour. In practice, the Department of Corrections takes 80 to 90 percent of the earnings, including funds to pay off court debts and victim restitution. Hart, for example, entered prison at age 18 with a debt of $150,000 from fines and surcharges placed on him during his arrest (part of Iowa's "pay for stay" program).
The numbers are not always easy to track. However, in fiscal year 2017, $1.7 million from the wages of IPI's private-industry workers went to the state, almost 21 percent of which was taxes on prisoner wages. The profits that IPI makes from its sales, according to Clark, are used to support educational and vocational training for prison workers. But those profits are very small—about $80,000 in fiscal year 2017—far short of the amount needed to pay for such programs.
Clark acknowledges that prisons are expensive, but—like many correction industry executives, as well as many local church leaders—he feels it is the responsibility of prisoners to pick up the tab. "Hey, you're incarcerated and making good money," he said, "but some of that is going to go back to defer the cost of your incarceration."
This philosophy—one that shifts the burden of costs to inmates—has been used in the past to justify IPI's expansion and was embraced by Prince of Peace Lutheran Church in its decision to contract with IPI. The availability of state-managed cheap labor allows prison industries to undercut the prices of smaller manufacturers, including those that manufacture church furniture. Thus the savings that churches enjoy are part of a system that transfers wealth from the private sector to the state.
Track recidivism rates
At St. Paul's in Cedar Rapids, the renovation committee was familiar with low inmate wages. "Prison pay is a concern I have, but then there's the flipside of that," Mather said. "Just put yourself in that place. You made a huge mistake, but wouldn't it be nice to train for a job and see something positive changing for yourself?"
Prison industry executives don't portray themselves as cash cows for the state, but as humanitarian organizations. Their mission, they say, is to reduce recidivism and bolster successful inmate re-entry.
Clark links IPI's mission to that of the church: "People of faith and people in correctional industries have a lot in common," he said. "We recognize that up front."
In 2017, during IPI's annual training conference, 36 empty chairs were placed on the left side of the room. The chairs were meant to symbolize IPI's progress on reducing recidivism. A study found that IPI's labor program had reduced recidivism by 8 percent that year, which worked out to about 36 offenders not returning to prison. Clark sees this as IPI's crowning achievement. "[Employers] are looking for someone they can train and who will show up to work," he said. "So, no matter what else—whether it's [making] license plates or sewing or welding or making pews—that simple act of working is what we hear is most important."
Nationwide, however, unemployment rates among former inmates are sobering—"higher than the total U.S. unemployment rate during any historical period, including the Great Depression," according to a 2018 report by the Prison Policy Initiative. The national unemployment rate in 2018 was 4 percent; for formerly incarcerated people it was 27 percent. "Although employers express willingness to hire people with criminal records," the PPI report continued, "evidence shows that having a record reduces employer callback rates by 50 percent."
While IPI's program may have slowed the rate, overall Iowa's recidivism is going up. Nearly 4 in 10 released Iowans return to state prisons within three years—and the rate has increased 7.3 percentage points since 2014.
Calculate the outcomes
While Lenny Singleton was incarcerated in Virginia, he worked as a warehouse clerk for 13 years at Virginia Correctional Enterprises (VCE). The height of production brought 12-hour shifts, six or seven days a week, sometimes around the clock. Singleton made $150 a month; he could have made as much as $300 a month if he were willing to work 6 a.m. to 10 p.m.
"Absolutely it's a form of slavery," Singleton said. "That's exactly what it is."
Prison industries reject that label. According to Clark and Hart, inmates can choose to work for prison industries or not and the ability to choose is crucial. Hart, who remains incarcerated, writes that he never considered his work at IPI as "slavery," describing his work as an opportunity to work alongside a community and pick up vocational skills he was interested in learning.
Singleton, on the other hand, didn't see his employment at VCE as a choice. The prisoners who typically work for prison industries, he said—at least the ones who stay—are the ones who don't have a choice: "That's why I was working, because I didn't have any money coming from the streets.
"All those guys who worked those kinds of hours worked because they had to take care of themselves," Singleton continued. And for them, he said, "that slavery became a blessing." Their work for prison industries, said Singleton, is the only way they could afford toothpaste and deodorant—sold from state-controlled canteens or the "company store."
In Iowa, prices at the prison canteen run about 38 percent higher than Walmart. But Walmart's not an option for prisoners. Incarcerated women working at IPI's textile shop in Mitchellville, Iowa, are paid 10 percent less than the men working at IPI's textile shop in Fort Dodge. Theoretically, these women would need to work the equivalent of 9.2 hours to pay for the cheapest box of tampons available.
Additionally, the racial disparity in Iowa incarceration ranks second worst in the country, according to The Sentencing Project. Black Iowans are incarcerated at a rate 11 times higher than white Iowans. Hart said, and Clark confirmed, that the racial makeup of IPI workplaces and warehouses is roughly equal to the overall prison population, making IPI a predominately black workforce.
Seek a faithful response
"Prison industries are problematic from the very beginning," said Willie Jennings, theologian and professor of Africana studies at Yale University. Jennings put the prison industrial complex alongside the "otherization" and over-policing of black children, who are often labeled "disobedient" by state and institutional systems of power.
"It's no secret that many people fear young black and Hispanic children," Jennings said. "No secret that a white child who is disruptive is not imagined in the same way a black or brown child is."
For Dominique DuBois Gilliard, an Evangelical Covenant Church pastor and author of Rethinking Incarceration, IPI's disproportionately black workforce is as an example of churches benefiting financially from the "exploitation and dehumanization" of people of color. Gilliard quoted Matthew 25 and Hebrews 13: "Continue to remember those in prison." He sees a theological paradigm at play that presupposes that market forces are inherently good and that ignores the theological implications of racialized policing. "Seeking the maximum profit is not always the most faithful response," he said. And Jennings echoed: "We have not [brought forward] a theological vision of sentencing."
In 2017, Pastor Klawonn and Prince of Peace Lutheran successfully outfitted their sanctuary with an IPI-built altar, pulpit, lectern, baptismal tub, two flower vases, and two wooden chairs—delivered in time for the church's 60th anniversary. Klawonn calls IPI "an extension of [his] ministry."
When asked about inmate wages, Klawonn responded, "What they get paid is kind of their issue, because we can't demand that they get paid more."
He quickly added, "I mean, I guess we could and say we're not going to bring our business to them. But it goes beyond pay. It's really about how they use the talents they have in service of others." When asked again whether he thinks prisoners should be paid more, he responded with, "That's another issue for another time."
At St. Paul's United Methodist in Cedar Rapids, any concerns Mather had about prison pay were assuaged, for her, by her belief that the church's business gave prisoners "a pat on the back, to let them know they matter."
Choose a way forward
IPI director Clark has heard the "slavery" critique before. "It's interesting that some folks have that impression, because I can tell you, it's the opposite," he said. Clark also defended IPI against contributing to mass incarceration and disassociated his involvement with aggressive policing of nonviolent crimes or stockpiling prisoners to maximize profit. "We're not in the business of getting people off the streets so they can work for [us for] cheap," Clark said.
Even Mather, who wishes prison workers were paid more, says Iowa churches value prison industries' vocational training more than they are concerned with the social inequities that prison industries may reinforce.
St. Paul's renovation committee voted in favor of contracting with Iowa Prison Industries based on two major factors, according to Mather: "price and justice." IPI's price was attractive, and there was a consensus, she said, that buying from prison industries promoted something good.
"It was a pretty easy decision," said Mather, pointing out that IPI sent upholstery samples to the church so the committee could review which fabric worked with which wood stains before St. Paul's paid for anything.
For Gilliard, the idea that upholstery samples or prices or quality of work might justify support for prison labor is morally reprehensible. It is evidence of what he described as a systemic failure of the church.
"It is when we become aware, and don't divest ourselves of these institutions, when we are preying upon the 'least of these,'" Gilliard said. "It is then we are complicit, and we too have blood on our hands."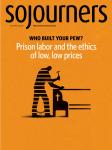 This appears in the June 2019 issue of Sojourners
Got something to say about what you're reading? We value your feedback!