The Lord has appointed me to bring good news ... to bind up the broken-hearted, to proclaim liberty to the captives, and release to the prisoners. —Isaiah 61:1; Luke 4:18
APRIL'S BIRACIAL DAUGHTER Erin has a drug problem. Heartbroken, "April" has watched "Erin" negotiate the prison system for the past 17 years. Now age 44, Erin has been in and out of five prisons and four jails, totaling almost eight years—all on drug-related charges.
On any given day in the United States, at least 137,000 men and women are in prisons or jails for drug use or possession, with thousands more spending extended periods on probation and parole. Why have rates of drug use (excluding opioids) not changed significantly despite more than four decades of the so-called war on drugs? Why are so many punished by incarceration for an activity that does not directly harm others?
In fall 2016, I was looking for volunteer opportunities in retirement. Having worked with a prisoner-release program in Canada, I wanted to pursue criminal justice issues again. In Harrisonburg, Va., I discovered the Valley Justice Coalition, a local group concerned about reducing incarceration and recidivism in Harrisonburg and surrounding Rockingham County.
With 2.2 million inmates, "no other country in the world imprisons its citizens like we do," says Craig Haney, a professor of psychology at the University of California. Currently, 670 per 100,000 persons are incarcerated in the U.S., compared with 60 to 200 persons per 100,000 in other Western countries. This prison boom has led to annual spending of $72.5 billion on corrections.
Brother Fink received his 87-year sentence in 1990, when he was 34. The former parole system had offered incentives so that a sentence could be reduced. With cooperative behavior and attending educational programs, prisoners could earn "good time credits," so Brother Fink diligently complied. But by the mid-1980s, many states had passed "truth-in-sentencing" laws that required prisoners to serve higher percentages (typically 85 percent) of their already long sentences, followed in the '90s by "tough on crime" policies.
Now state prisons in the U.S. face an exploding elderly population. Between 1993 and 2013, the number of prisoners 55 years or older, serving sentences of one year or longer, increased 400 percent, to 131,500. If this trend continues, by 2030 a third of all inmates will be elderly, escalating the need for geriatric facilities and staffing, with costs twice that of younger inmates. The Osborne Association, which works with older prisoners and their families, estimates current annual spending at $16 billion for inmates aged 50 and older, warning that without decisive action the criminal justice system is at risk of collapsing under its own weight.
After serving 28 years, might Brother Fink be eligible for parole? Sadly, the Virginia parole board denies most releases, currently approving only 6 percent. Brother Fink has had 11 parole interviews, receiving three-year deferrals, including two geriatric turndowns.
As of October 2016, the backlog of prisoners eligible for parole in Virginia numbered 2,765, costing the state more than $77 million annually. Given this backlog and the seriousness of Brother Fink's crimes, what are his chances for release at his next parole hearing? Then multiply Brother Fink by more than 100,000 elderly prisoners across the nation, who are some of the most rehabilitated and most infirm in the system, thus posing the least threat to public safety.
Read the Full Article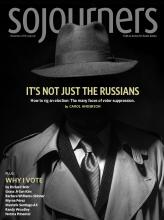 ​You've reached the end of our free magazine preview. For full digital access to Sojourners articles for as little as $3.95, please subscribe now. Your subscription allows us to pay authors fairly for their terrific work!
Already a subscriber?
Login